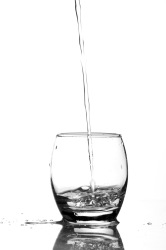 Oh, my gosh! It happened again. I was walking through a mall minding my own business.
It usually is a woman. Not this time. This time it was a man.
It's always the same questions.
But he reacted just like all the women.
What do they all have in common? They all wanted to talk about my skin.
The man was working a kiosk selling facial products. He waved at me and called me over. I shook my head and kept walking. He called out that he didn't want to sell me anything he wanted to know what I used on my face. He said I had beautiful skin. I laughed. I know this conversation. I have had it before. I walked over to answer his question.
He didn't understand my answer. But neither did the women who asked.
My skin looks the way it does because of what I eat. They usually check out when I say that. But it is the truth.
I tried to explain that I eat real, whole food. I eat good fats. I drink a lot of filtered water every day. I told him I don't eat at places like McDonald's or Burger King. He tried to understand. I really lost him when I said no junk food. But he did understand drinking water and how it helps to keep the skin hydrated. He didn't ask about filtering the water. I am not sure he heard that part.
Everyone that asks about my skin steps up real close to me and just stares at my skin. He did it too. He kept asking what products I used. He really didn't like my answer that what I eat impacts my skin much. The women react the same way.
They don't want to change the way they eat. They like the convenience of their fast foods. They don't really understand that what they eat doesn't have the nutrients we need to heal and build our bodies in a healthy way.
They want the quick fix. They want a cream or lotion that can be used for a couple of weeks and then have great skin. Sorry, it doesn't work that way.
I do use some products on my skin. I use clean products. I don't use any one or two things consistently enough to even say I have a "skin care regime." For example, I have at least four moisturizers open right now. I use the one I pick up first. There is no formal rotation.
One of the things I use on my skin is coconut oil. My current massage therapist actually uses coconut oil during my massages. It's nice knowing my massages aren't putting anything yucky on my skin for me to absorb into my system.
One product that I have used consistently for the last couple of years is Derma E's Microdermabrasion Scrub. You only use it once or twice I week. But to be honest, since I live in Texas I do tend to use it three times a week during the summer. But I was getting quizzed on my skin before I used the Microdermabrasion Scrub.
That brings us back to it's my food. Sorry if you don't like my answer but it is the truth. Improve what you eat. Improve the what you put in and on your body. You are worth the extra money for the real food.
And please don't think that I was just blessed with great skin. I used to have acne and I smoked for a number of years. I also had my fair share of sunburns.
If you are willing to do the work and make healthier food and lifestyle choices you can also have great skin. You can be stopped by strangers and asked what you use.
If you want to speak with me about my choices for great skin email me and let's schedule a chat.
Since most people don't understand that my food choices affect the appearance of my skin I don't dare tell them I actually sit in the sun for a bit most days and don't use sunblock.
P.S. Use this link http://i.refs.cc/J4nJWf2v and receive $5.00 off your first order. Free shipping for orders over $25.00.